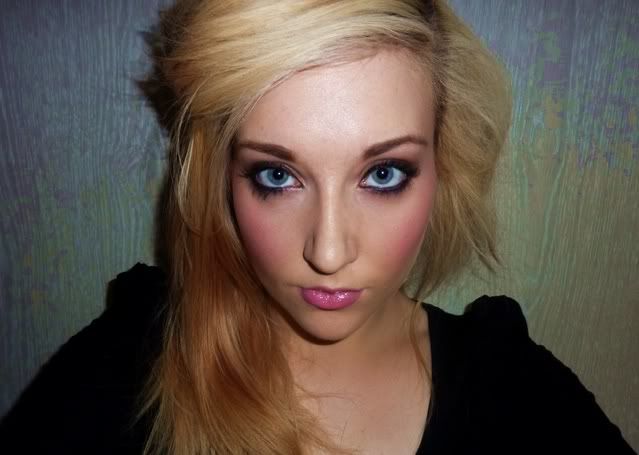 I know I know. These pictures look so poser-ish. But I mean its not like showing off my makeup in a picture like this would be any better.


I recently purchased some new ELF products and this bright pink slightly Barbie look was born. I don't in any way compare myself to Barbie. Btw. Heres what I wore on ma face for a lazy shopping day to the Drum as I like to call it. Thats Dundrum shopping centre for those of you not in the know!


I used a mix of shadows from this No. 7 palette that came free with a mascara in Boots yonks ago. It was described as a Spring palette, although I personally feel the first two colours are quite Spring-y and the second two are more Autumnal shades. I used the latter.

LIPS
I purchased this Hello Kitty Lipstick from MAC again ages ago, in the shade Strayin'. May I just say I feel very proud to be breaking out all these oldies in my collection and rediscovering why I purchased them in the first place! It is a hot pink frost lipstick which I very rarely wear as I find it has quite the shock factor. My gloss is my fave Barry M lipwand in Bubblegum. And yes, it smells like bubblegum. I thought this lip combo would go perfectly with my blush, which was a recent purchase from ELF.


FACE


From Clockwise Top left: ELF Cool Bronzer palette, ELF Brow Set, ELF Pink Passion Blush and ELF Gotta Glow Highlight.

These all came in the mail to my surprise as it was a friday and I thought I would have to at least wait until monday for them to arrive. I wore all of these today to test them out. And I am quite happy with all of them. The blush has to be my favourite product though. If you've seen my recent
Youtube Video
you'll already know I love it. It is unlike any other blush I own, and that's why I opted for it. I find all the blushes in my collection to be quite a similar shade of pink, and this one screamed at me on the ELF site. I reeeally like it. I also used my Bourjois Healthy Mix Foundation, Bare Minerals Powder and L'Oreal Volume Million Lashes mascara.
So there is my faaace of the day for you all, hope you all have a lovely weekend :)