This is a kind of filler-inner post. I haven't posted in a few weeks as I've been adjusting to working life, accmulating funds, drinking, dancing, dining, and just being a general procrastinator. Here's what's been going on with me. Bullet point styley.
If you've read my last post, you will know I started a proper full time job. This is like a big deal for me. Totes! After searching for months for the perfect job, I finally found one that I like the sound of, and it's going quite well.. I mean every job has its ups and downs, and I always find problems with everything, but sure it's grand. It's in a Catering Company, and my job title is Trainee Catering Manager. While this may not be everyone's cup of tea, I'm happy with it. I have this sort of ambition where I won't settle for anything, I get impatient and I want an amazing job that pays exceptionally well. Two problems with this. We're in a recession and everyone has to start at the bottom. I mostly run the kitchen, and i've suffered a mass amount of cuts and burns already, (because im impatient and I rush everything!), but i'm adjusting :)





Then there is the subject of the weekly full time paycheck. I mean I don't know what to be doing with myself it's been so long since i've been paid such a nice lump every week, that I don't know what to do with it. I'm bad with money see, bad at saving. I like to splurge. I think we all do! I've been fairly good so far though, only splurging on some well needed hair products, and a lovely meal out for mine and my boyfriends 4 year anniversary. We went to Ananda Indian restaurant in Dundrum, as seen on MasterChef :) It was truly delicious, and I'm very critical of my food coming from a foodie background and all that! We got a table d'hote menu for €65 which came with an amuse bouche and champagne, choice of meat or seafood starter, lamb, seabass, chicken or pork mains which were all served with naan and pilau, and an amazing 'Bibinca' dessert which was like compressed sweet crepes served with raisin and cinnamon icecream and bitter caramel popcorn! All dishes came with a matched wine, and it was really really amazing.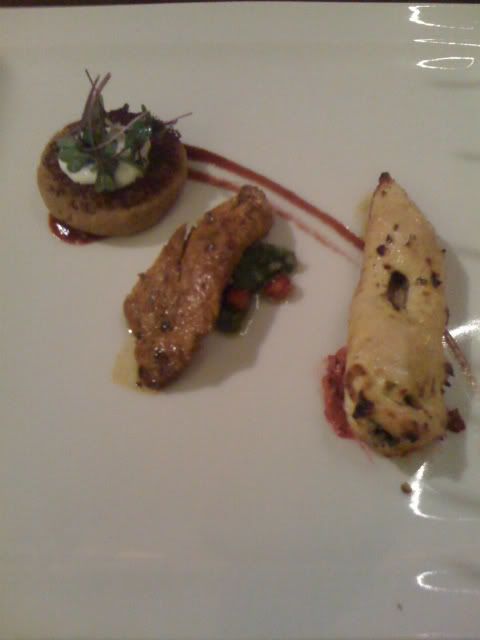 Mixed Meat Platter: Lamb, Guinea Fowl, Chicken
Lamb Rack with Sweet Potato, Chickpeas, Chard, Mint and Pomegranate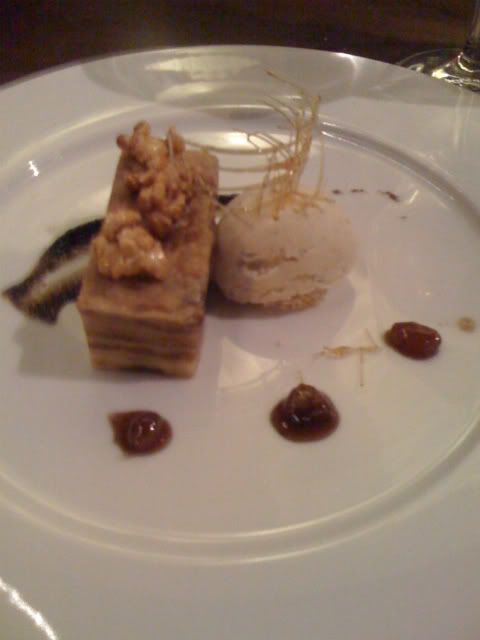 Bibinca baked Goan pudding, sugar cane, raisin compote, tamarind reduction
Now that I actually have money to do stuff regular people my age do I've been going out quite a bit, and getting sloshed. And it's been great. I went to a comedy gig last week (first time ever!) in the Laughter Lounge in Dublin, and saw some really really good comedians do their thang. It was really nice to be able to sit back and just have a good laugh with the girls. The same night evolved into a crazy amalgamation of messiness, and I ended up in Doyles and then Copan, and the night unfortunately ended on a bad note, with some of my friends getting into a fight with some randomer scummers, all over a gherkin. Long story. They're fine now though!
On a lighter note, here's a token poser photo of my makeup for the night.






I really really need to venture away from my 'safe' smoky eye, I do the same thing nearly every time I go out, but I really just love the way the colours look together.
FACE
MAC Studio Fix Fluid in NW15 mixed with
Clinique Repair Wear Foundation in Vanilla
Bare Escentuals Powder Foundation in Light
ELF Pink Passion Blush
Natural Collection Sunkissed Cheeks Bronzer

EYES
Estée Lauder Stay in Place Eyeshadow Base
Catrice Gel Liner
Essence Lash Mania Ultra Volume Mascara in Hypnotic Black
Clinique Kohl Pencil in Black Noir
Barry M Dazzle Dust in Tan
MAC e/s in Sketch
Urban Decay Naked Palette Sin and Virgin


LIPS
Essence Lipliner in Soft Rose
Barry M Lip Paint in 101
Barry M Lipgloss Wand in Bubblegum

That's most of my random babble for now, my next post will be about something I have experienced quite a bit of recently, customer dissatisfaction, what happened to me, and how I dealt with it. Anyways, I hope you are all having a lovely weekend! I think Im coming down with a cold. Boo! Talk soon :)