Hello all! Despite my ferocious hangover, I am in a very happily dandy mood this sunday morning! For two reasons: Bank holiday weekend means halloween and a three day weekend, and I also graduated from college yesterday and got my degree! Woo :)

Alot of my posts lately have been rambles about my life and such, so here is an actual makeup related post for a change!

Here's the deal: I am terrible with statement lip colours. No matter what it is, I never seem to choose a shade that suits me. I am so much more comfortable doing a crazy eye and muted lip. Outrageous lip shades scare me. But I actually want to love statement lips. I just needed a teeny bit of persuading.
I ventured into MAC a total of 4 times this week, and two different MACs at that. I wanted one of the makeup artists to tell me exactly what would suit me, what would complement my skin tone and all that. I think a colour looks amazing in the tube and I buy it, and low and behold I go to wear it and I look like I painted my face in the dark. With my graduation this week I wanted a lip colour that was a little bit out there (for me!) but sophisticated enough for a formal do. MAC do amazing lip colours. I think we all know that. But for some reason all the lipsticks from MAC that I own are nearly identical in colour, just different finishes. Soft pinks are like my safety blanket. Step out of the box I told myself. And so I introduce you to Up the Amp.
I used this lipstick with Magenta lip pencil from MAC, which really gave it a richer, darker finish. I kept the eyes really neutral just using MAC's Lighscapade MSF as a shadow and Harmony blush as a contour in the eye socket.
<
Me and the sis.
FACE
Smashbox Studio Skin 15 Hour Wear Foundation in 2.1
Bare Minerals Powder
MAC Blush in Dainty
MAC MSF Lightscapade to highlight
MAC Blush in Harmony to contour
EYES
Eylure Falsies
Catrice Gel Liner
Check out the gown :)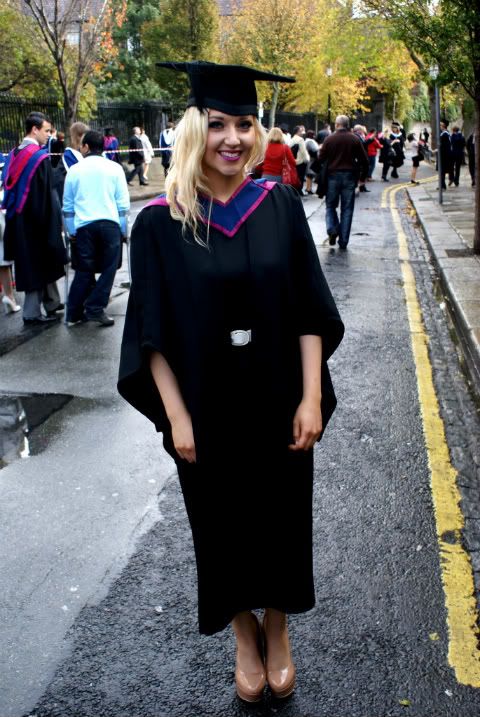 I really like this lipstick, and it has made me realise that lip colours are fun, not scary at all! Brave it!
Hope you all have a great weekend and happy halloween :)
x