Random title. My imagination isn't sparking today. It may be as a result of overtiredness, insomnia, or because I'm dying of a cold. Or all three. This look was created a few weeks ago, but for some reason I never posted it, and I am posting it now because I realised that my lack of poser type posts on the blog may mean that some of you forget what I look like.

How vain do I sound right now.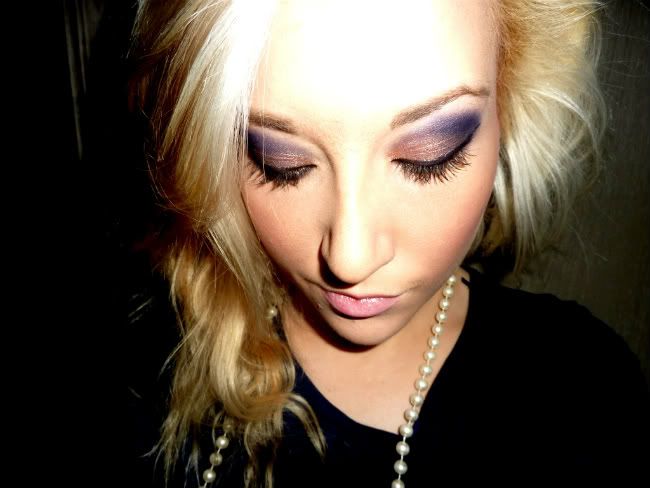 This eye makeup was inspired my by dress, which is navy blue. Forgive the lack of photo, but it's quite shapely and very pretty, from New Look. I love.
I wear these colours quite a lot together, I just love how they contrast against eachother, but still blend in.
For this look I used:
FACE

Smashbox Studio Skin 15 Hour Wear Foundation in 2.1
Bare Escentuals Powder Foundation in Light
MAC Blush in Mocha
Natural Collection Sunkissed Cheeks Bronzer
EYES
Estée Lauder Stay in Place Eyeshadow Base
Catrice Gel Liner
Essence Lash Mania Ultra Volume Mascara in Hypnotic Black
Clinique Kohl Pencil in Black Noir
Barry M Dazzle Dust in Tan
Revlon Matte e/s in Riviera Blue
Urban Decay Naked Palette e/s in Sin and Virgin
LIPS
Essence Lipliner in Soft Rose
MAC Lipstick in Politely Pink
Barry M Lipgloss Wand in Bubblegum
I never really co-ordinate my makeup with my clothes, but the overall look came out quite subtle.
I've just started up a Facebook page for Fashion Turn to the Right. Like it
HERE!


If you haven't already, enter my NARS Christmas Giveaway
HERE!