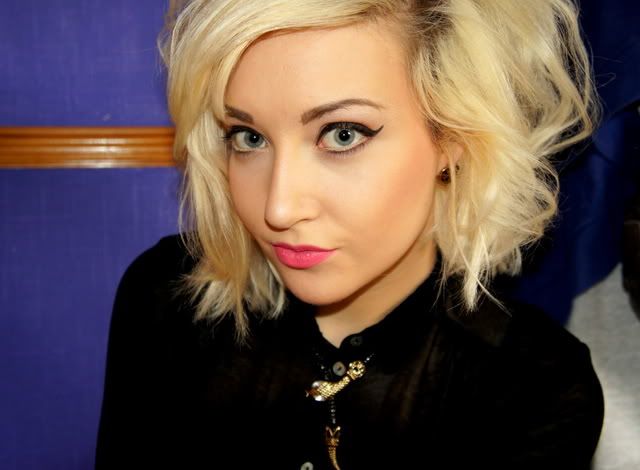 I had never before purchased one of the Viva Glam range from MAC. I don't know why, the Cyndi and Gaga versions didn't appeal to me for some reason, at the time that is. Both lipsticks are lustre's, which is a finish I'm not a huge fan of, and perhaps thats the main reason I steered clear. I had heard about Nicki coming out, and just fell for the colour almost immediately. It is something I have nothing close to in colour in my collection, and just, well, I just couldn't resist.
First off, it's a Satin finish. If you're not familiar with Satin's, all I can tell you is that they are extremely pigmented, a little bit less matte than a Matte, but still quite drying. I only have one other Satin in my collection and that is Myth, and I quite detest it! I thought I hated it because of it's formula, although it's colour majorly contributes to my hatred for it as well. After wearing Viva Glam Nicki for a day and a evening out, I can say that it is quite a drying lipstick, and left my lips feeling quite poorly and flaky. I hate this feeling! My lips are quite dry as it is, but I risked it for the amazing colour payoff that Nicki gives. My only advice is to use a preeeetty good lip scrub and moisture balm before applying.
Now to the colour. It's decribed as a yellow pink, and is such a statement colour. I actually adore this colour, so much, it's just so loud and bright, and well, statement-y. Definitely one to get you noticed. I really really love it.
Apart from its payoff, it's longevity is quite admirable. I went to Wagamama for lunch the day I trialed this baby, and it stayed put throughout an entire hour of noodle slurpage. It was only later on in the day did it start to feel flaky and drying, and lip balm application was necessary. I used Nicki over a hot pink lipliner from Essence, so it stayed where it should for the majority of the day.
Overall, I am quite happy with this purchase. I mean, nothing is perfect right? So I suppose the finish is it's downfall, for me anyway. But the colour totally makes up for it. I can see myself reaching for this time and time again. (Aprés lip moisturisation, obv.) Perhaps I will purchase it's brother product, the Ricky Martin Lip Conditioner, that was suspiciously released alongside Nicki. Squinty eyes.
Another thing I love about this product is that the Viva Glam range is in association with the MAC Aids Fund, in which every cent from the sale of these products goes towards helping women, men and children affected by or living with HIV and Aids. I think it is so admirable that this brand does that, and by buying Nicki, I truly feel like I am helping, and not just buying another superfluous beauty product.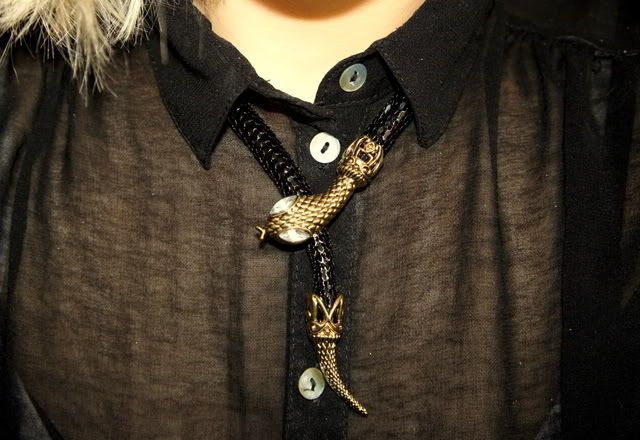 I thought I would also show you my Snake Necklace, which I absolutely adore! I got this from New Look. :)

Have you tried any of the Viva Glam range?
I am also holding a Giveaway, as a thank you to my followers, so be sure to check it out HERE if you fancy winning yourself a few goodies. :)
Hope you are all having a lovely weekend!

x