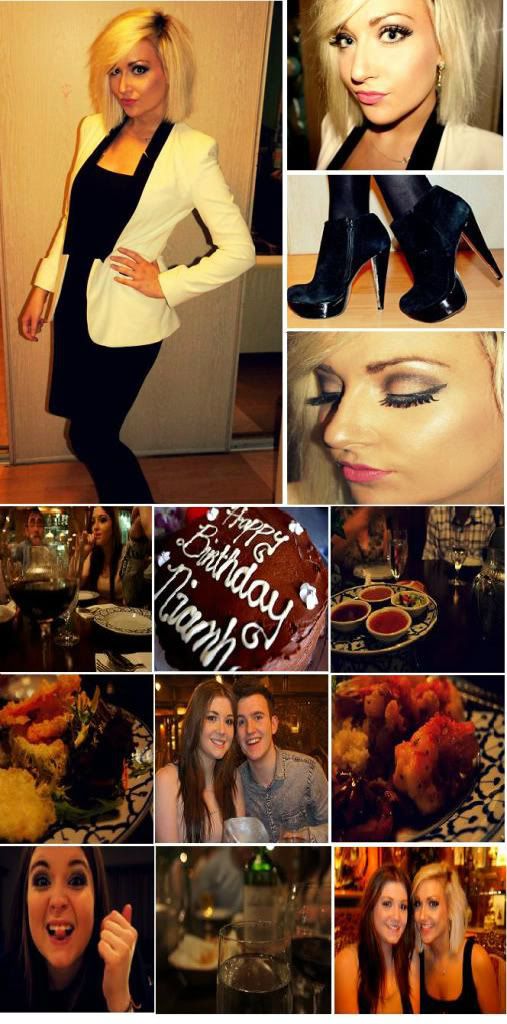 Blazer and Skirt - River Island Heels - Topshop
Face:
Smashbox Studio 15hr Foundation | MAC Harmony | MAC Lightscapade | Sleek Santorini
Eyes:
MAC Lightscapade | NARS Night Series Palette | Inglot Falsies | Maybelline Gel Liner
Lips:
MAC Viva Glam Nicki
Table banter | Homebaked Bday Cake | Starter Dips
Vegetable Tempura | Niamh and Dan | Prawn Mains
Birthday Girl! | Glasses | Blurry Niamh and I
My baby sister celebrated her 18th birthday on friday, which was a huge milestone in our house, as it is in most houses I'm sure! I was particularly excited because sometimes I still feel like I'm 18, all giggly and immature and senseless. I wish I was 18 again at times. But friday was my sister's day, and we celebrated by having a grown up family dinner, none of this going out and getting sloshed business. My sister is more sensible than I am sometimes, and wanted a no fuss evening out with the fam. I keep telling her it'll all change once the rest of her friends turn 18, and there'll be no stopping her going out on the lash each weekend. Au contraire she says.
We went to the Baan Thai restaurant in Leopardstown, which is a gorgeous Authentic Thai restaurant which I have been to on numerous occasions. I decided to wear my new River Island blazer which I absolutely adore, because it's just so bright and fresh and adds sophistication to anything it's paired with. It was a fairly quick evening, or so that's how it felt, as my mom and I polished off a bottle of red wine between us! We all traipsed home for Birthday Cake (made by moi!) and champagne, before calling it a night.
In other news, I have been on a mad internet trawl searching for makeup dupes. I don't know why, as I mentioned in my last post that I feel I have graduated to 'grown up makeup', but today I found myself searching for popular MAC lippies elsewhere. Maybe it's the bargain hunter within me. I bought Viva Glam Nicki a few days ago, and I adore the colour, but the finish is something I am struggling with. (It's a satin!) It feels quite drying, although the colour payoff is magnificent. I am wearing it today with my purple Illamasqua blush and they really complement eachother. :)
I am also very very near 800 followers! Yay!!!! I will be having a giveaway when I hit the big eight hundred, most likely giving away some MAC and NARS goodies, just to say thank you to all of you who read, comment, share, and interact with me. I absolutely love blogging, and your involvement in Fashion Turn to the Right has made my blogging experience so far a truly great one.
:) x