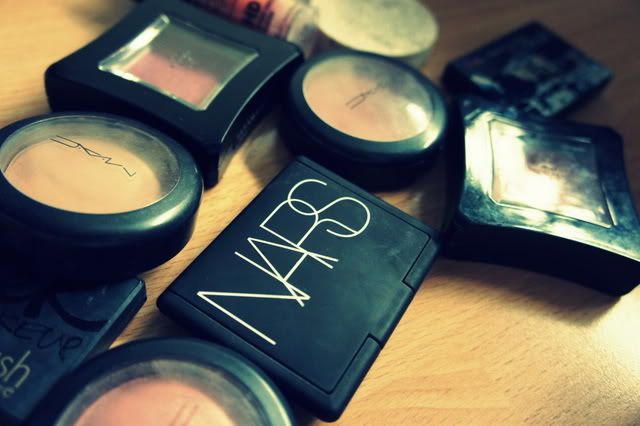 I absolutely adore blush. I used to ponder that all blush was the same, like how many shades of pink can one really pull off?! Boy was I wrong. As you can see from my favourites list below, pale pink blush is positively tame compared to my lot. I do tend to favour the louder varieties of blush, as I have countless pinks in my collection as a whole, and find them to be a bit blasé. Here are my favourites and most worn, and what I think of each of them.
MAC
Harmony: (Matte muted rose-beige brown)
I love love love this to contour with, but sometimes use this as a blush in it's own right if my lips are particularly bright, and I don't want to appear drag-queen-esque with a loud blush.
Dainty: (Light Yellow Pink with Gold Pearl)
This is a really pretty blush if I want a bit of shimmer without having to resort to using a highlight product.

Mocha: (Matte Soft Plum-Pink)
The perfect pink for my skin tone. This is my go-to blush.

SLEEK
Santorini | Pomegranate

Santorini: Matte loudmouth pink
This is my ultimate 'mad' blush. It is so highly pigmented that even the faintest swash of this blush will give the most amazing look.

Pomegranate: Shimmery Plum Gold
A gorgeous soft plum for everyday.
Morale | Libido

Morale: Deep Violet Flush with Shimmer Finish
I can't get enough of purple blushes! They are just so stunning, and this one by Illamasqua is unbelievable. So pigmented, perfect colour, easily buildable.

Libido: Cream Blush, Vibrant Red Orange with Dewy Finish
The fact that this is a cream blush makes applying so easy to build, so it can be as sheer or as pigmented as I like. I really love the piquancy of this colour.
NARS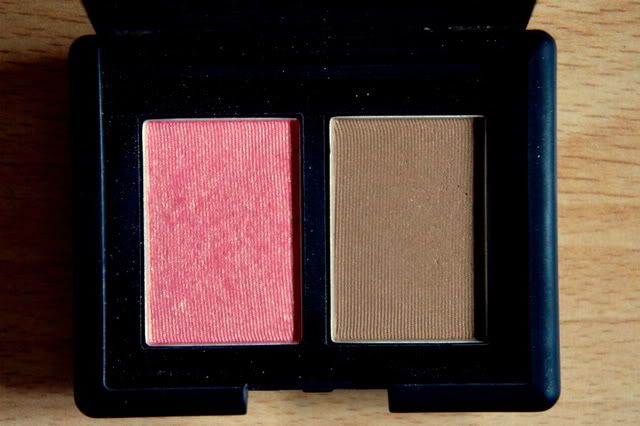 Orgasm/Laguna

Orgasm/Laguna: Peachy Pink with Shimmer/Brown with Golden Shimmer
Believe the hype about this cult classic. The duo is the perfect combo together. The peachy coral of the blush just oozes summer, is shimmery and lasts a very long time. The bronzer, well, bronzes, without looking muddy, and is a lovely contour despite its teeny bit of shimmer.

TOPSHOP
Powdered

Powdered: Matte Bright Candy Pink
This is the pinkest of Topshop's blushes, and it was actually a mistake purchase. I thought I picked up Pop, a coral orange, and was disheartened to see that when I ripped off the packaging, it was in fact, not what I thought. I kept it any way, and it is now one of my favourite pinks. So bright and candy like, it peps up my face on a dreary day. I was also surprised at the quality of Topshop's makeup, and I intend to add to my little collection.
MAKE UP FOR EVER

#1: HD Cream Blush, Vibrant Plum
I told you I was mad for the purples. As far as cream blush goes, I was relatively new to that whole trend until I picked this baby up at IMATS. I absolutely love it. It is very buildable and gives such a unusual hue to the cheeks. I like to wear this on my lips too.

#12: HD Cream Blush, Bright Apricot
This is so pigmented it's almost overwhelming to apply. It is definitely easier to build on the cheeks than it is to mute, if you go over the top you run the risk of having neon orange cheeks! Suffice to say, this is also such an unusual colour that makes me love it even more.
What are your favourite blushes? Have you tried any of these?

x